Skip to product information
Anoint Aromatherapy Eye Pillow
Regular price

$29.95 NZD
Unit price

per
Tax included.
Made in Kerikeri by Anoint 

Aromatherapy Eye Pillows are designed to help to still your mind and soothe your eyes. They are made from a fabric pocket (2 pieces of our gorgeous floral soap fabric) sewn together and filled with a mixture of Botanicals, Essential Oils and Brown Rice.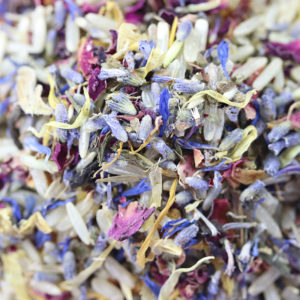 What are the Botanical Ingredients?
The botanicals are the same blend we use in our Aromatherapy Facial Steam and include Rose, Calendula & Cornflower Petals, Rose Hip, Lavender Rubbings, Lemon Balm and Jasmine Green Tea.
Which Essential Oils are used?
We have included a blend of Essential Oils including Rose Geranium, Lavender, Ylang Ylang & Bergamot for their calming and relaxing aromatherapy properties.
Does an Aromatherapy Eye Pillow block out light?
The brown rice adds weight to the eye pillow and means you can gently fit it to the contours of your face so it completely blocks out any light. Blocking out visual stimulus sends a message to your brain that it is time for your mind to be still. But that's not all the addition of the brown rice does.
What are the benefits of a weighted Eye Pillow?
The sensation of light pressure resting on your eyelids just feels SO good! I was really intrigued as to why this was and decided to do some research and found it is all to do with the Vagus Nerve.
The Vagus Nerve
Applying light pressure to the eyelids is believed to trigger the vagus nerve and create a reflex that lowers your heart rate and regulates your mood. The official name is the 'oculocardiac reflex' and it is believed to transmit into the rest of the muscles in your face and even into your shoulders. It is said to release a neurological signal that gives your body and mind permission to relax.
When is the best time to use anAromatherapy Eye Pillow?
You can use your Eye Pillow at any time to help calm feelings of stress. Using for ten minutes at bedtime can support falling into a deep sleep.  Aromatherapy Eye Pillows can also be used for yoga and meditation to help to regenerate energy.
Can you warm or chill the Aromatherapy Eye Pillow?
Aromatherapy Eye Pillows can be used warmed or chilled. Using a warmed Eye Pillow helps with relaxing and refreshes the eyes. Chilling your Eye Pillow cools the eyes and can help with easing headaches and migraines.
Note design of fabric may vary from the one pictured but they are all gorgeous floral designs. 
Delivery information
Cost:

Delivery to a NORTH ISLAND urban address (1-3 working days) - $8.95

Delivery to a NZ RURAL / NON-URBAN address (2-4 working days) - $10.95

Delivery to a SOUTH ISLAND urban address (usually overnight if ordered before 2pm Mon-Fri) - $6.95

SAME DAY CHRISTCHURCH DELIVERY (order before 2pm,Mon-Fri delivery only - selected suburbs - see delivery info page) - $10.95

 
Mini Gifts

FREE Delivery NZ wide (usually overnight unless rural or ordered after 2pm or over a weekend).